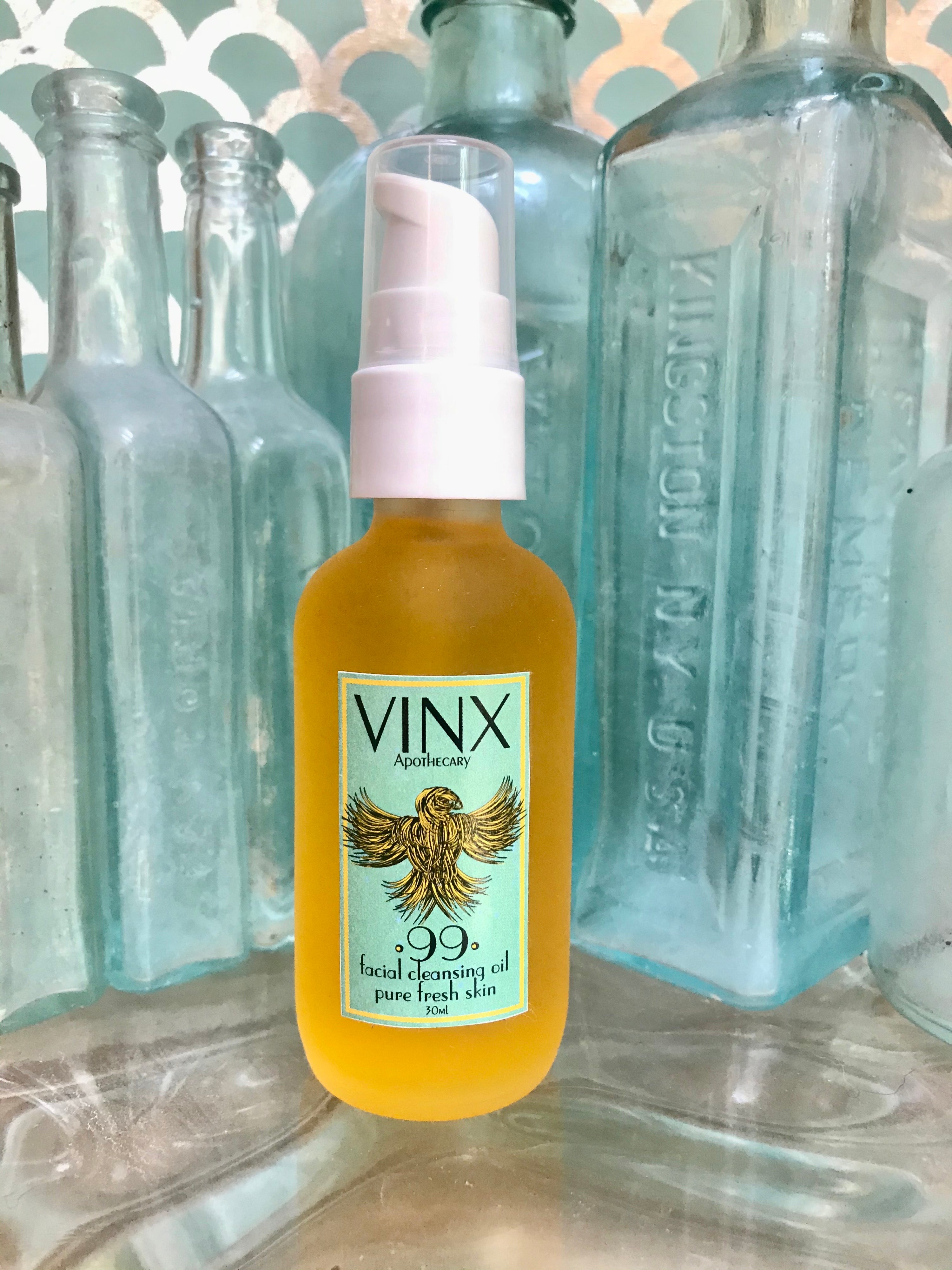 99 will change the way you wash your face.  This unique blend of toning oils thoroughly and gently cleanses without disrupting your skin's natural ph balance.  It is suitable and beneficial for every skin type, even very sensitive.  It will ease your skin back to balance; relieving breakouts, tightness, irritation, redness...even excess oiliness.
99 is perfect for removing eye makeup.
Apply 3-5 pumps to wet or dry skin. Massage your face (and neck for an extra treat) with light and thorough strokes for 30 seconds or more. Take time with your skin to stimulate circulation and encourage lymphatic drainage.  
When satisfied, remove with a warm or cool moist cloth or under the shower. Your skin will be pure and clean. No trace of oiliness will be left behind, just a calm, supple, fresh complexion.
Follow with Lux Tonica for hydration and balance.
ORIGINAL FORMULA
PAIRS WITH
Organic Oils of Rosehip, Meadowfoam, Abyssinian, Jojoba, Avocado, Olive, Fractionated Coconut, Castor & Sea buckthorn; Olive Oil PEG-7 Esters, Sambucus Nigra Fruit Extract. Essential oil blend of Cypress,Rose Geranium, Frankincense, Ylang Ylang, Patchouli, Lavender, Eucalyptus, Rosemary, May Chang, Bergamot, Peppermint
Fluxx OIl Serum

https://vinxapothecary.com/collections/facial-care/products/fluxx?variant=35063985963166
ORIGINAL FORMULA
Organic Oils of Rosehip, Meadowfoam, Abyssinian, Jojoba, Avocado, Olive, Fractionated Coconut, Castor & Sea buckthorn; Olive Oil PEG-7 Esters, Sambucus Nigra Fruit Extract. Essential oil blend of Cypress,Rose Geranium, Frankincense, Ylang Ylang, Patchouli, Lavender, Eucalyptus, Rosemary, May Chang, Bergamot, Peppermint
PAIRS WITH
Fluxx OIl Serum

https://vinxapothecary.com/collections/facial-care/products/fluxx?variant=35063985963166
99 CLEANSING BALM